Thu 29 Jan, 2004 07:43 pm
It's supposed to be high summer now in Melbourne. But I'm sitting here in a jumper & jeans, surveying the mess caused by a leak in my lounge room ceiling - caused by a flash flood & a newly discovered leak.
Take a look at what happened in my city last night:
http://www.theage.com.au/photogallery/2004/01/30/1075340791670.html
Waaaaaaaaaaaahhhh .... where is my beloved summer?
I MISS it!
The best time of year. <sigh>
We're told things about climate change. etc, but this is really strange.
I want HOT!
... And more to come!:



Friday January 30, 10:13 AM


Melbourne braces for more storms


The weather bureau has issued a severe thunderstorm warning for Melbourne today in the wake of overnight floods and storms that lashed several suburbs.

Emergency crews were kept busy responding to hundreds of calls with the worst-hit areas including the eastern suburbs of Hawthorn, Kew and Malvern.

Storms lashed the city early yesterday evening, throwing peak-hour traffic into chaos with the temporary closure of the Monash freeway around 6:00pm AEDT.

Thousands of motorists were stranded in the outbound lanes for more than two hours as VicRoads worked to clear the water, which was more than a metre deep in some areas.

Melbourne Fire Brigade Commander Colin Matheson says calls for help were non-stop at one stage.

"Overnight activity is fairly hectic, a large number of calls came in once the storms hit ... we had appliances going to dozens of calls at once, the storm played havoc with all the alarm systems, fire alarms, burglar alarms and as a result we were responding to these calls throughout the western, eastern, northern and southern suburbs," he said.

Caulfield police say they were inundated with calls as the storms wreaked havoc throughout their area.

Early this morning a woman was rescued from her car, which was submerged in water under the Caulfield railway bridge.

Police say two passers-by were able to free the woman minutes before the water reached the roof of the car.

The car is still submerged with council workers assessing the situation.

They are expected to begin draining the water from under the bridge in about an hour.

Graham Bravo was at bowls practice in Hawthorn when the rain hit last night.

He says he had no idea it would cause so much damage.

"We came to bowls practice and we were just practising on the green and it started to rain and we stood on the verandah at the club house and said this'll blow over in five minutes and then the heavens just opened, the whole green was flooded, it was at least two foot under water," he said.

"And then we noticed out the front in the carpark, we said there's a car floating and it was at least four foot deep and the cars were floating round the carpark crashing into each other."

``
That's terrible! Frigid cold and snow storms here, and nasty flooding there.
Got hot coming out our ears, Pedro!!!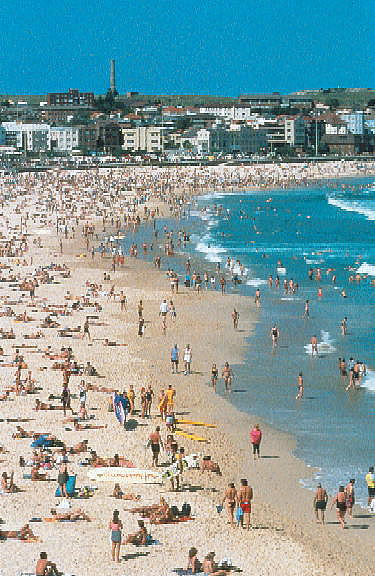 whoa! that's not good at all, msOlga - winter, spring, summer or fall!



Mr. S - why are there always so many people at such small beaches in those pix you post? are there no big, uncrowded, beaches down there?
That's Bondi. The ocean beaches closest to the city centre are smaller and very popular.
However, there are others:
Main Beach, Gold Coast
Broad Beach, Surfers
Narrabeen Beach in Sydney's Northern Beaches - I lived about a block away from this view for years!
Olga
That's terrible. Wow!!!
Beth - a better q is why is there people on those beaches at all! They make all the children wear hats and then they go out in bikinis to toast their skin.
But.... aaaahhhh.... Byron Bay in winter
Mr Stillwater wrote:
Got hot coming out our ears, Pedro!!!
Fibber, Mr S!
It was only 26 C in sydney today! That aint hot summer weather! :wink:
ehBeth wrote:
whoa! that's not good at all, msOlga - winter, spring, summer or fall!
The problem with Melbourne, ehBeth, is that it can all happen in one day! Ever hear the song, Four Seasons In One day? It was written about Melbourne! You don't put your winter clothes into mothballs in summer, just in case .....
Severe storms for the last week in Brisbane yet still 30+ degrees everyday. According to the locals February is even worse.
Adrian wrote:
Severe storms for the last week in Brisbane yet still 30+ degrees everyday. According to the locals February is even worse.
Have you copped the rain & floods though, Adrian?
February is the WET season, yes?
You're new to Brisbane, then?
65,000 houses lost electricity yesterday. My house lost it today. I'm up here for work from Sydney. Theres no wet season here it's too far south.
These are caused by the trough thats been sitting over the Gulf of Carpentaria, the damn thing is just sitting there, hasn't moved for almost a fortnight.
Uh oh!
Adrian, we'd better start growing trees like crazy, drive cars less, whatever .... Something STRANGE is happening, don't you agree?
So, do you miss Sydney in January?
Yep, mother nature is not real happy.
I miss Sydney full stop.
Aw, hope you're back home soon, Adrian.
No place so good as home!
Get to go home in March if all goes well.
Can't wait!
I hear your yearning, Adrian. I sincerely hopes all goes well then!