@Mame,

Mame wrote:
. . . I'm sure there was lotsa stuff

Wonder how cheap I can get a

Canucks jersey
I'll bet the "Canucks Stanley Cup Champions" ones are going REAL cheap.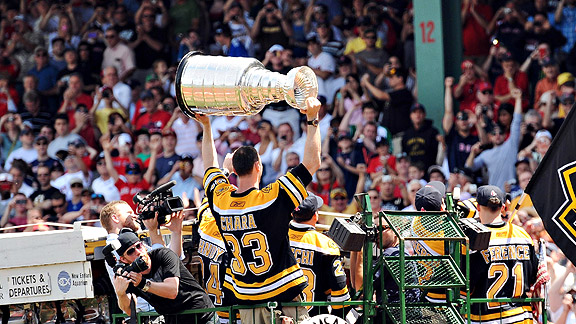 captain chara showing off before today's sawx game...
I'm leaving for Vancouver Thursday. I'll report on the riot damage and look for a Canuck Stanley Cup Champion jersey.
Thanks for the pictures - I did get a quick look on the TV prior to leaving for the softball games - looked like a great time.
All the commentators speculated that Ryan Kesler was playing hurt.
Turns out he was playing with a torn groin and maybe a torn hip labrum.
Yikes!
Quote:
The Boston Bruins' Stanley Cup-clinching Game 7 victory over the Vancouver Canucks stands as
the most-watched National Hockey League game on American television since 1973.

The Game 7 victory was seen by about 8.5 million people on NBC, the Nielsen Co. said. That's the
biggest audience since a 1973 playoff contest between the Montreal Canadiens and Chicago Blackhawks.
(espn)
timmeh bagged his
2
nd vezina trophy...
well deserved
!
@Region Philbis,

But jeez-louise was that award show lame!
In Vegas?
Real Housewives of New Jersey?
Donnie Freakin Osmond?
Sheesh.
@George,

didn't watch it...
NHL's lame attempt at a reality show?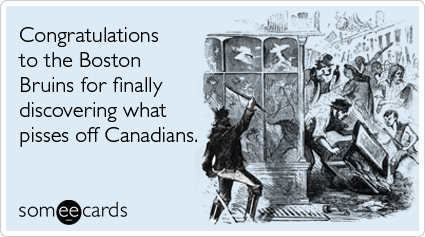 "slew-footing"

i've been watching hockey (off and on) since the 70's.
had did i manage to never hear this term for tripping before?
here's a good example of it --
Quote:
slew-footing is one of the most dangerous infractions in hockey. It occurs when a player takes out an opponent's legs
out from under them, usually from behind, causing them to fall violently to the ice, risking injury to the back or head
as they fall backward.
(source)
One of the features of being an awkward player playing pond hockey
with a bunch of other spazzes is that you get to experience all sorts
of fouls, most of them unintentional, but nonetheless painful. I recall
being slew-footed -- I didn't know it was called that either -- and going
down hard on my hands and tailbone. Not fun.