Sat 19 Feb, 2011 01:37 pm
Anna Nicole Smith to become an Opera. Will the songs be as good as My Fair Lady?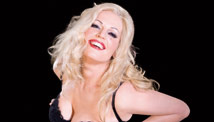 http://www.cnn.com/2011/SHOWBIZ/02/17/anna.nicole.opera/index.html
Quote:
London, England (CNN) -- Anna Nicole Smith, the surgically enhanced Playboy Playmate who died of a drug overdose at 39, always dreamed of being famous. But even she would probably be shocked to see where her story has now ended up.

"Anna Nicole," the opera -- yes, the opera -- premieres at London's Royal Opera House Thursday.

And although the life of Anna Nicole Smith may have been shocking on its own terms, in many ways, it's par for the course for opera, she said.

"Bad girls have always been the stuff of opera," she said. "Think of Carmen and Traviata. Why shouldn't Anna Nicole join opera's women?"