@ossobuco,

The laurel bay/sweetbay/grecian laurel ---
can be kept formal or like a regular shrub. People even bonsai them.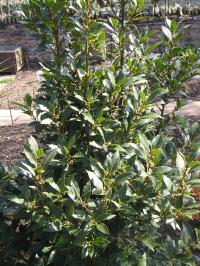 some Rhododendron occidentalis (western azalea/pacific rhododendron) -
Oh, I thought of another plant - my business partner had it in a biggish pot in her patio, and it grew tall and spikey, with fabulous flowers. It's called Iris neomarica, and is not an iris, just looks like one. I see it called different things, apostle plant, walking iris, neomarica....
They might be hard to find. Hers grew quite thick in the pot, and tall, about as tall as their doorway.
This one listed as Neomarica longifolia.
This one is listed as Neomarica caerulea.
Phormium hybrids (New Zealand Flax) also come to mind and can grow in pots. They can be rambunctious in the ground, have never had one in a pot myself.