The Holocaust was a 20th century inquisition done under cover of the Nazi party. Hitler was catholic; and when it became known that Pope Pius XI supported Hitler, the Roman Catholic vote swept Hitler into power in 1933.
Read what the press of the Spanish dictator, Franco, published following Hitler's death. It said, "Adolf Hitler, son of the Catholic Church, died while defending Christianity." It goes on to say, "Over his mortal remains stands his victorious moral figure. With the palm of the martyr, God gives Hitler the laurels of Victory."
Walter Schellenberg, former chief of Nazi counter-espionage made this statement: "The S.S. organization had been constituted by Himmler according to the principles of the Jesuit Order. Their regulations and the Spiritual Exercises prescribed by Ignatius of Loyola were the model Himmler tried to copy exactly. Himmler's title as supreme chief of the S.S. was to be the equivalent of the Jesuits' 'General' and the whole structure was a close imitation of the Catholic Church's hierarchical order."
Franz von Papen, another powerful Nazi, who was instrumental in setting up the concordat between Germany and the Vatican had this to say: "The Third Reich is the first world power which not only acknowledges but also puts into practice the high principles of the papacy." If you are not aware of what a concordat is, a concordat is an agreement between the Vatican and a government. As far as the Vatican is concerned, that government that signed the concordat has now become a part of the government of God, and the Vatican fully intends to stabilize that government, give it divine protection, and give it international protection.
Signing the concordat is Cardinal Pacelli (later to become Pope Pius XII). By 1933 he was the Vatican Secretary of State. Second from left is Franz von Papen, a sinister Nazi and devout Roman Catholic who was Hitler's ace diplomat and the Vatican's agent in helping to bring Hitler to power. Standing at the far right can be seen the little-known Vatican prelate, Montini, later to become Pope Paul VI.
Hitler with Catholic Archbishop Cesare Orsenigo
Hitler greeting a Catholic Cardinal
Catholic Bishops giving the Nazi salute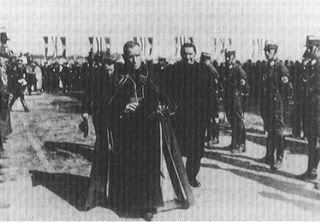 Catholic Cardinal Michael Faulhaber at a Nazi rally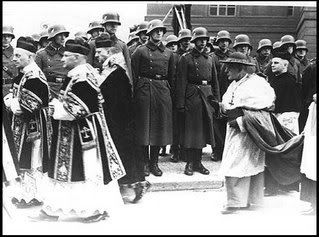 Catholic Cardinal with Nazis
Hitler's Brown Army attending and leaving Catholic church services.
Hitler at Nazi party rally
Notice the Catholic church in the background as if it represented the foundation of the party.
"I learned much from the Order of the Jesuits. Until now, there has never been anything more grandiose, on the earth, than the hierarchical organization of the Catholic church. I transferred much of this organization into my own party."
-Adolf Hitler