I put this in marketing because I'm most interested in a respone from that perspective.
Any and every comment appreciated though. I'm very curious to learn whether this has any kind of appeal to consumers.
Do you think it would be better with more text captions or word bubbles?
Thank you!
Type: Discussion • Score: 2 • Views: 2,327 • Replies: 21
I will assume by the several hits and no comments that this is not appealing to many people.

If so, let me know. You won't hurt my feelings.

I'm just trying to get a handle on it -- wondering if I should include a page of unconvential things on my website.
I looked at it, don't know what I think.
Fair enough.

Thank you, osso.
It's cool looking. The first picture is a little too disturbing without ample context, I think. It can be figured out -- handcuffs, release -- but something about child in handcuffs plus expression plus the way it's rendered is a little too "eek" in that first picture.

The stripey shirt is interesting, graphically.

In terms of marketing/ your website, I'd leave it off.

It's an intriguing idea, though -- telling a story via pictures, the quasi-comic-book vibe -- maybe you can find something else to give that treatment? Mo building something in the backyard, something like that?
Actually, the right kind of captions/ word bubbles could go a long way towards leavening things -- that'd provide more context ("he's fine, really! child is not in peril!! just a silly little harmless thing!"), but would be less graphically interesting.
Well, I agree with all that Sozobe said.

I like it, as a personal memory of Mo's predicament that day.
I think it is very well done.
I think it is apt to freak people if part of marketing, for the picture it gives of a 'trapped' child, and the possible connection to some, sans context, of pervert stuff.
It might be apt to get you some of that "make a child cry for photography" angst, when we all know that wasn't the story.
On the other hand, it's something I'd be proud of producing. It is art, really.
So, selective in the showing..
That's my opinion this minute in time.
Excellent points!

Thank you very much!!

I know the story so I wasn't disturbed by the images but looking at it from an outside perspective it is really kinda icky.

It definately needs some explaination.

Yes.

Absolutely.

I will goof around with it some and see what I can come up with to put things in context.
One of the ideas behind your photography enterprise is "Story of a Child's Afternoon" I like using a story on your web site.

Even knowing the story behind the pictures, I couldn't follow them quickly.

Layout:

X 1

2 3 4

5 6

Picture 1: I agree with Soz--too much Instant Pathos here. Can you provide a before-#1 shot showing just how Mo reached pathos.

For me a picture between #1 and #2 (or between #2 and #3) of the Rescue Squad approaching would help me follow the story. Perhaps a picture of their vehicle would do. You could get that without a photo shoot.

#4 is very "busy" in this version, I had trouble seeing what was going on.
#5 is also "busy".

I don't like #6 with the handcuffs. I'd rather see #6 as a picture of Liberated Mo.

Perhaps if #6 came before #1, #1 would illustrate Boyish Prank rather than Child in Torment.

As I said, I like the idea of "See, my pictures tell a story," but the story must be comic-book easy to follow.

Separate thought here: Could you provide simple props and simple costumes for your photographic subjects and take pictures both of the Fairy Tale Story Line and backstage at the personal theatrical production of Fairy Tale Story?
Even more excellent points.

I need to work on this idea a bit more. That is clear now.

We're off to a beach event in mere minutes. I wish I had some more time to play with it today. I will certainly be putting all of your comments to good use.

Thanks a million!
My feeling is that in a way, advertising/marketing is like a joke. If you have to explain it, don't show/tell it.

That's a brutal assessment, but you asked for it.
I can take brutal, roger, and you make an excellent point.

The image is not intended to stand alone but to show what different kinds of things can be done with an image. I had originally conceived it as a story board but came to comic book as I dabbled around a bit.

I'm going to play around with it a bit tonight......
My first thought, when I saw the layout ,was one of shock and concern for the child in the pictures. Not knowing any of the circumstances, I felt a sadness for the child and a concern as to what was being told. The first picture was most disturbing. It may have been my frame of mind at the time I looked at it.

Perhaps some text could have forewarned of what was to come and I may have looked at it in a different light.

Having said that, I find the artwork to be very good. Just not the type of thing I would want to see as I entered a website. Others have made some good recommendations.
Okay.

That is way more than enough people distressed by the image I made. I took it down.

I didn't want anyone disturbed by it or, worse, titilatted by it.

Context IS everything.

It was such a funny, silly, bizarre situation that I wanted to document it in a unusual manner.

Obviously, I chose the wrong subject.

I'm encourage by those who felt it was "well done" and might try it again within a different story.
I reworked the story - focusing on the rescue and adding a text explaination. I think I'll just have one made for myself, instead of using it on my webpage but I'm curious as to whether you all think this is more acceptable: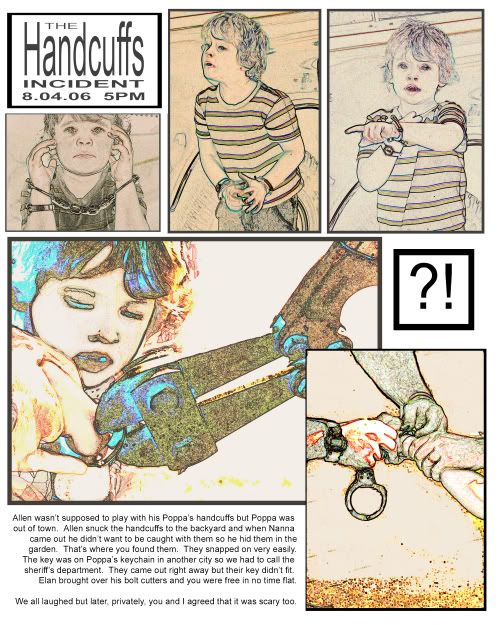 There ya go!

I'm still not sure what I think about it on your webpage -- maybe do a couple more in this style, have it be part of that crowd? I think there are still larger context issues that we know but the casual visitor might not -- that, for example, you'd never in a million years stage this to tell a an interesting visual story (but freak out your poor kid).

The shifted emphasis (to release) is good, and the ?! graphic, and the simple words you chose.
Maybe mirror-image layout on the bottom half? The keys first, then the bolt cutters, then the text on the right side? Right now the keys "read" as the last thing that happened.
Thanks soz. I really don't think I'll use it as an image on the site but just something for our scrapbook. The photos on their own were really mediocre, very snapshotty so I really didn't want to use them as a stand alone image.

In the last image he already has one side of the cuffs removed and they are working to slip the last one off of his wrist so this one is actually in chronological order.
Ah, I see.

Part of what I like about the whole enterprise is that your starting material was so snapshotty, and that you made something so interesting out of it.
Much better--the snapshotty pictures tell a story with an obvious happy ending.

Still, advertising "snapshotty" when asking for portrait rates might be counter-productive.