Sun 31 Jul, 2022 11:54 am
Quote:
Boston Celtics great Bill Russell, 11-time NBA champion, dies at 88

Bill Russell, the cornerstone of the Boston Celtics' dynasty that won eight straight titles and 11 overall during his career, died Sunday. The Hall of Famer was 88.

Russell died "peacefully" with his wife, Jeannine, at his side, a statement posted on social media said. Arrangements for his memorial service will be announced soon, the statement said.

"But for all the winning, Bill's understanding of the struggle is what illuminated his life. From boycotting a 1961 exhibition game to unmask too-long-tolerated discrimination, to leading Mississippi's first integrated basketball camp in the combustible wake of Medgar Evans' assassination, to decades of activism ultimately recognized by his receipt of the Presidential Medal of Freedom ... Bill called out injustice with an unforgiving candor that he intended would disrupt the status quo, and with a powerful example that, though never his humble intention, will forever inspire teamwork, selflessness and thoughtful change," the statement read.

"Bill's wife, Jeannine, and his many friends and family thank you for keeping Bill in your prayers. Perhaps you'll relive one or two of the golden moments he gave us, or recall his trademark laugh as he delighted in explaining the real story behind how those moments unfolded. And we hope each of us can find a new way to act or speak up with Bill's uncompromising, dignified and always constructive commitment to principle. That would be one last, and lasting, win for our beloved #6."
(espn)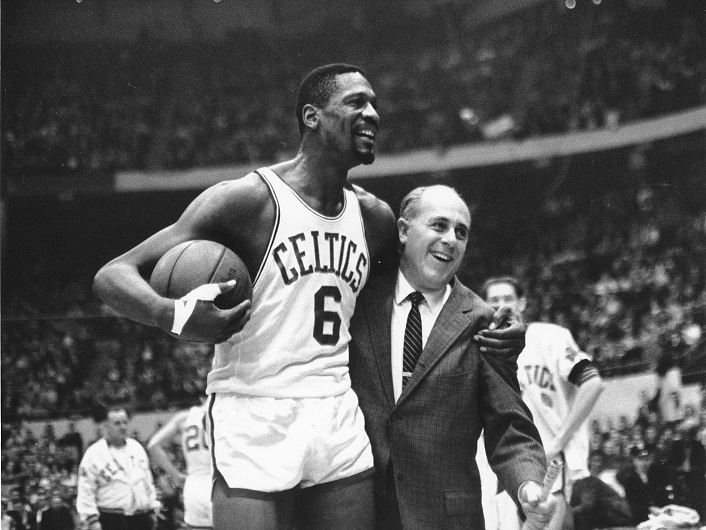 with coach Red Auerbach

from 1956 to 1969, he won five MVP awards, went to 12 all-Star games, and was the centerpiece
of the Celtics dynasty that won 11 NBA championships during his 13-year career...
@Region Philbis,

What a sad day. His amazing singular competitive play was what I grew up watching. I thought that was what a top teammate (and person) was supposed to be about. He spoiled us sports fans. May he RIP. He was unique.