Sat 25 Apr, 2015 01:31 am
A magnitude 7.9 earthquake in Nepal has caused extensive damage in the capital Kathmandu, bringing down walls and buildings.

Sky News' India Producer Neville Lazarus said there are reports of sacred temples falling in the city.

Dozens of people with injuries have been brought to the city's main hospital but there have been no immediate reports of fatalities.

The quake struck 80km (50 miles) east of the central city of Pokhara, close to the capital and was 31km deep, the US Geological Survey said.

"LOTS of shaking. Hid under table, then ran outside. Still feel like swaying. Cables/walls down," one witness in Kathmandu wrote on Twitter.

"Lots of panic, people wandering in the streets," @jonk said, adding that people were gathering in the middle of an intersection to avoid falling debris.

Nepal's Information Minister Minendra Rijal has told India's NDTV station that rescue teams are at the scene.

According to Sky's Neville Lazarus tremors could be felt as far away as India's capital New Dehli and other northern cities.

"For about three to four minutes buildings in Dehli experienced tremors and residents rushed out of their buildings," he said.

"Everything was shaking."

India's Prime Minister Narendra Modi has tweeted: "We are in the process of finding more information and are working to reach out to those affected, both at home & in Nepal."


M7.9 - NEPAL

Preliminary Earthquake Report
Magnitude 7.9
Date-Time
25 Apr 2015 06:11:24 UTC
25 Apr 2015 11:56:24 near epicenter
25 Apr 2015 00:11:24 standard time in your timezone
Location 28.175N 84.698E
Depth 2 km
Distances
33 km (20 mi) E of Lamjung, Nepal
60 km (37 mi) NNE of Bharatpur, Nepal
72 km (45 mi) E of Pokhara, Nepal
79 km (49 mi) NW of Kirtipur, Nepal
80 km (50 mi) NW of Kathmandu, Nepal
Type: Discussion • Score: 5 • Views: 3,367 • Replies: 16
@Butrflynet,

NEW DELHI: Massive tremors lasting well over a minute were felt across northern India after a 7.5 magnitude earthquake hit Nepal this morning. (LIVE Coverage)
Tremors were felt across eastern and northern parts of India, said JL Gautam, Head Operations Seismology of Indian Meteorological Department (IMD). "Earthquake of magnitude 7.5 occurred today at 11.41 AM between latitude 28.1 North and Longitude 84.6 East. The epicentre was located in Nepal," an IMD statement said. (See Pictures)
The quake reportedly was 19 kilometres deep.
In Delhi and parts of the National Capital Region, people were seen running out of their houses after buildings shook for well over a minute. However, there are no reports of any damage in Delhi.
Tremors were also felt in Patna, Lucknow, Kolkata, Jaipur, Chandigarh, Bhubaneswar, Cuttack, Nagpur and other cities.
Nearly half an hour after the first tremors, aftershocks were felt again around 12:20 pm across North India.
@Butrflynet,

(Reuters) - A massive earthquake measuring 7.7 magnitude struck 80 km (50 miles) east of Pokhara in Nepal on Saturday, causing some buildings in the capital Kathmandu to collapse, witnesses said.
There was no immediate word on casualties.
A Reuters reporter in Kathmandu said he had seen some buildings collapse and walls of several houses reduced to rubble.
"Everyone is out in the streets, people are rushing to the hospital," the reporter said.
Tremors were felt as far away as New Delhi and other northern cities in India.
"Massive tremors have been felt here in Delhi and several other parts of India," said a newsreader on NDTV in Delhi.
"You can see pictures of our Delhi studios, where the windows rattled and everything shook for a very long time, for a minute perhaps or longer," she said as footage showed studio ceiling camera lights shaking.
A police officer in the control room of neighbouring Indian state of Bihar said the phone lines were jammed with callers from across the heavily populated state. "We don't know about the casualties, we are flooded with calls."
Some buildings collapsed in the Nepalese capital - this is the Patan Durban Square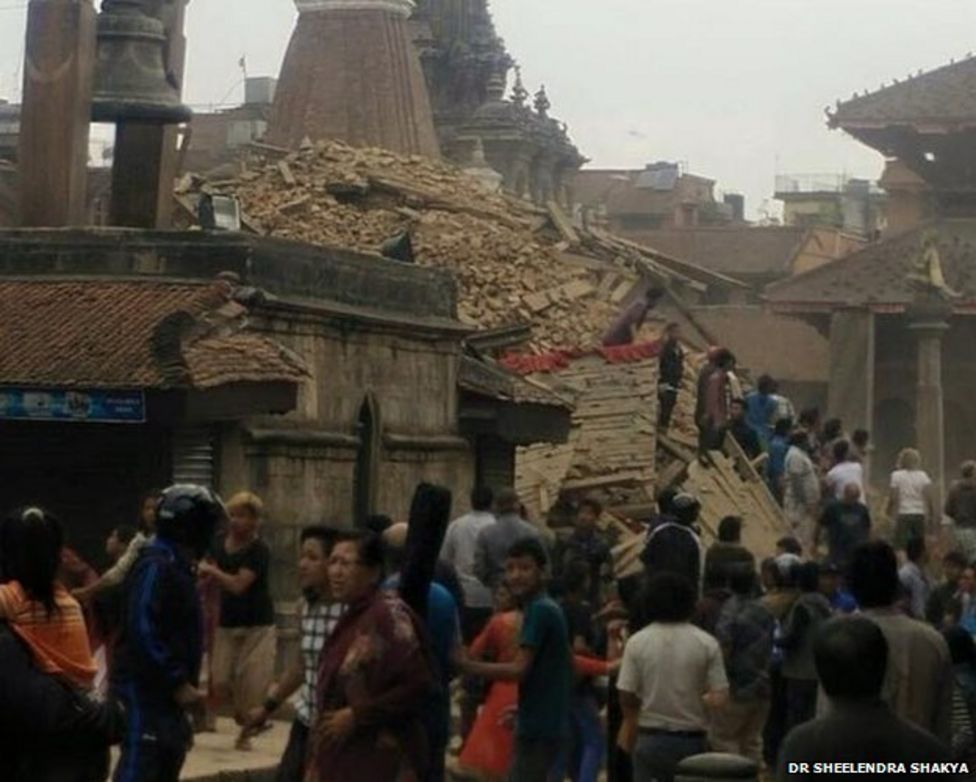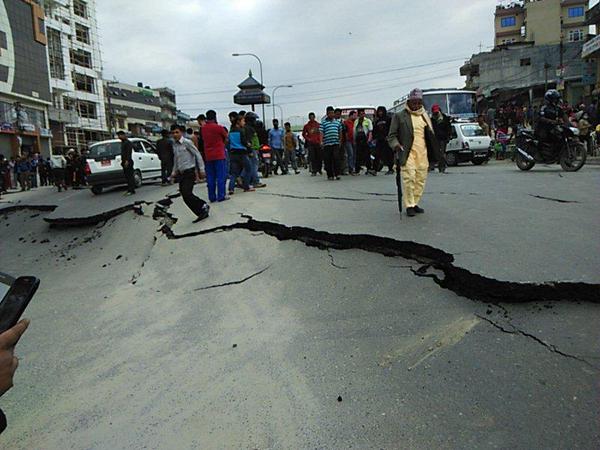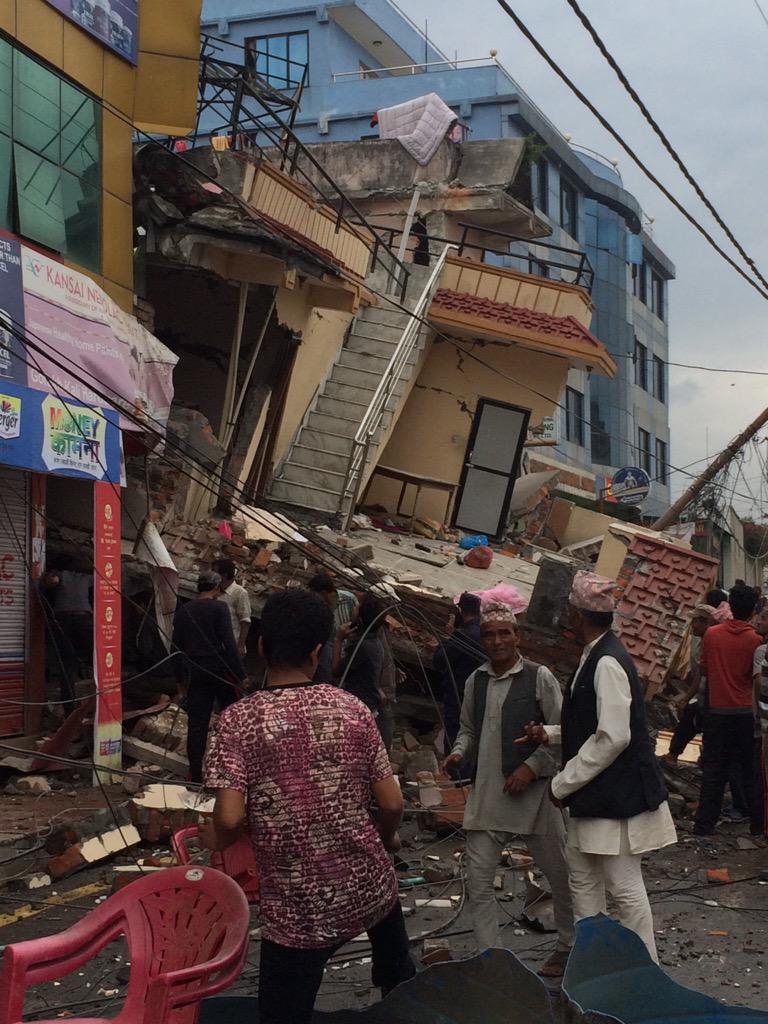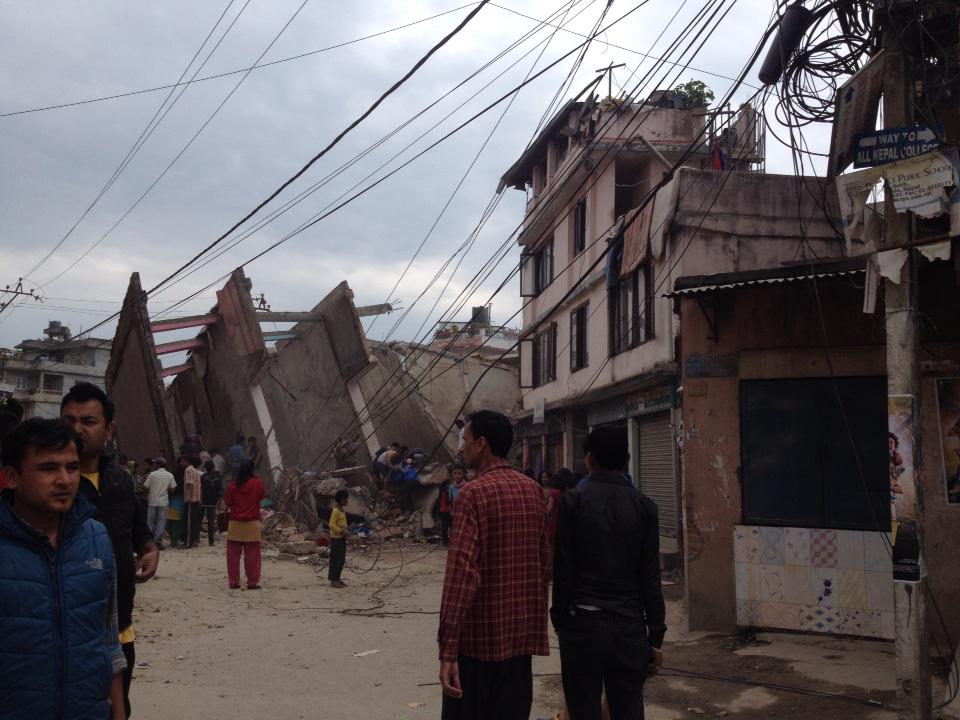 @Butrflynet,

A spokesperson for Nepal's Home Ministry, Laxmi Prasad Dhakal, said that the preliminary death toll stood at 686, nearly all in the valley around Katmandu, and that thousands of people had been injured. Trekkers reported a major avalanche on Mount Everest, where two people were reported dead, according to tourism officials. In addition, 34 deaths had been reported in India.
By THE ASSOCIATED PRESS
APRIL 25, 2015
KATHMANDU, Nepal — Tens of thousands of people spent the night in the open under a chilly and thunderous sky after a powerful earthquake devastated Nepal on Saturday, killing at least 1,500 across the region, collapsing modern houses and ancient temples and triggering a landslide on Mount Everest. Officials warned the death toll would rise as more reports came in from far-flung areas.

Strong aftershocks continued to jolt the region as the rescue operation got into full swing at daybreak Sunday, with workers sending out tents and relief supplies in trucks and helicopters. Most areas were without power and water.

The death toll had reached 1,430, including 348 in Kathmandu alone, said Inspector Yuvraj Khadka of Nepal's national police force. The magnitude 7.8 earthquake, which originated outside the capital, was the worst tremor to hit the poor South Asian nation in over 80 years. It was strong enough to be felt all across the northern part of neighboring India, Bangladesh, China's region of Tibet and Pakistan, where a total of 60 people died.

"There were at least three big quakes at night and early morning. How can we feel safe? This is never-ending and everyone is scared and worried," said Sundar Sah. "I hardly got much sleep. I was waking up every few hours and glad that I was alive."

...
A mountaineering guide, Ang Tshering, said an avalanche after the quake swept base camp where expeditions were preparing to scale Everest, flattening tents and killing at least 10 climbers and guides and leaving an unknown number injured and missing and others cut off. Their nationalities were not immediately known.

Carsten Lillelund Pedersen, a Dane who was climbing the Everest with a Belgian, Jelle Veyt, said on his Facebook page that they were at Khumbu Icefall , a rugged area of collapsed ice and snow close to base camp at 5,000 meters (16,500 feet) when the earthquake hit.

"Right now, it is pretty chaotic and we try to help those injured," he said.

Norwegian climber Teodor Glomnes Johansen said that people at base camp were working on saving lives.

"All those who are unharmed organize help with the rescue efforts. Men, women and Sherpas are working side by side. The job right now is to assist the doctors in the camp here," he told Norway's VG newspaper.

..
The power of Saturday's tremors brought down several buildings in the center of the capital, the ancient Old Kathmandu, including centuries-old temples and towers.

Among them was the nine-story Dharahara Tower, one of Kathmandu's landmarks built by Nepal's royal rulers as a watchtower in the 1800s and a UNESCO-recognized historical monument. It was reduced to rubble and there were reports of people trapped underneath.

Hundreds of people buy tickets on weekends to go up to the viewing platform on the eighth story, but it was not clear how many were up there when the tower collapsed. Video footage showed people digging through the rubble of the tower, looking for survivors.

The Kathmandu Valley is listed as a World Heritage site and is a collection of seven locations around Nepal's capital that reflect the country's rich religious history. The Buddhist stupas, public squares and Hindu temples are some of the most well-known sites in Kathmandu, and now some of the most deeply mourned.

The head of the U.N. cultural agency, Irina Bokova, said in a statement that UNESCO was ready to help Nepal rebuild from "extensive damage, including to historic monuments and buildings of the Kathmandu Valley."

Nepali journalist and author Shiwani Neupane tweeted: "The sadness is sinking in. We have lost our temples, our history, the places we grew up."
An adventuresome Google executive who once dated TV star Sophia Bush met a harrowing death on Mount Everest in a a series of valanches triggered by Saturday's giant earthquake.
Dan Fredinburg, of San Francisco, was the only American confirmed by Saturday night to have died in the tragedy.
He died from head injuries when the avalanche slammed into his base camp, according to family members and a statement from Jagged Globe, the mountaineering company that organized his summit attempt.
It's unknown how many Everest climbers died in the avalanches triggered by Saturday's devastating earthquake. An Indian army team found 18 bodies on Everest on Saturday. But Nepal's tourism ministry could only confirm 10 deaths.
At least 1,000 climbers, including 400 foreigners, were at base camp or on the mountain when disaster struck.
A major aftershock with an initial reading of magnitude 6.7 hit Nepal on Sunday, the day after a devastating earthquake shook the country, the U.S. Geological Survey reported. Climbers on Mount Everest said they saw a new series of avalanches and rockfalls.


Rescue crews and residents in Nepal early Sunday began the desperate search for survivors after a magnitude-7.8 quake near the capital of Kathmandu a day earlier flattened homes, buildings and temples, causing widespread damage across the region and killing more than 1,900 people.

Whole streets and squares in the capital of more than 1 million people were covered in rubble. Stunned residents stared at temples that were once part of their daily lives and now were reduced to nothing.

Locals and tourists ferreted through mounds of debris in search of survivors. Cheers rose from the piles when people were found alive -- but mostly bodies turned up. The injured ended up being treated outside overflowing hospitals, where crowds of people gathered looking for relatives.

Dozens of bodies were pulled from the historic nine-story Dharahara tower that came crashing down during the quake. At least 17 people were reported killed on Mount Everest, where the quake caused multiple avalanches.

A seemingly endless series of aftershocks continued to roil the area, further traumatizing survivors. Residents huddled in the cold rain overnight for safety.

The death toll of 1,910 -- provided Sunday by Laxmi Dhakal, an official at the Nepalese Ministry of Home Affairs -- is expected to rise as the full extent of the damage is assessed.

Looking for loved ones? CNN iReport wants to help

The loss of life reported so far "is really based on the information we have from the main cities," Lex Kassenberg, Nepal country director for CARE International, told CNN. "But if you look at the spread of the earthquake a lot of the rural areas have been hit as well. The information we received from the field is that 80% of the houses in these rural areas have been destroyed."

News out of remote areas near the quake's epicenter, where many more may have died, has been scant. Most of the homes in the secluded Latang Valley, have been destroyed an official there said.

In accessible cities, many hills of rubble have yet to reveal all the bodies of people inside of buildings, when they collapsed.

The quake was the strongest in the region in more than 80 years. Residents are used to earthquakes in Nepal, and many thought the start of Saturday's quake was a tremor, until the earth kept shaking and buildings crashed down.

"The reports of the devastation are still coming in and the numbers of people killed, injured and affected by this earthquake continue to rise," said U.N. Secretary-General Ban Ki-moon in a statement. "It is clear that very many lives have been lost."

'Utterly terrifying'
An estimated 4.6 million people in the region were exposed to tremors from the Nepal earthquake, the United Nations Office for the Coordination of Humanitarian Affairs said via Twitter. Thirty out of 75 Nepal districts were affected by the quake.

In neighboring Tibet, roads buckled, buildings collapsed and at least 13 people were killed, China's state media reported, citing local authorities.

Separately, at least four Chinese citizens in Nepal -- two workers with a Chinese company, a tourist and a mountaineer -- have been killed, state media reported, citing the Chinese Embassy in Kathmandu.

Officials in India confirmed at least 34 deaths in three states from the Nepal quake.
At least 3,218 people are now known to have died in a massive earthquake which hit Nepal on Saturday, say officials.
Rameshwor Dangal, head of Nepal's disaster management agency, said another 6,500 people had been injured.
Dozens of people are also reported to have been killed in neighbouring China and India.
Thousands have spent a second night outside after the 7.8-magnitude quake, which also triggered deadly avalanches on Mount Everest.
Vast tent cities have sprung up in Nepal's capital, Kathmandu, for those displaced or afraid to return to their homes as strong aftershocks continue.
"We don't have a choice, our house is shaky. The rain is seeping in but what can we do?" 34-year-old shopkeeper Rabi Shrestha, who was sleeping by the roadside with his family, told AFP news agency.
Rescue missions and aid have started arriving to help cope with the aftermath of the earthquake, the worst to hit Nepal for more than 80 years.

Efforts to dig victims out from under the rubble of collapsed buildings in Kathmandu continued into Monday.
But home ministry official Laxmi Prasad Dhakal told Reuters rescuers were "in a really bad shape" after working non-stop for two days. "We are all about to collapse."
Meanwhile, officials have warned that the number of casualties could rise as rescue teams reach remote mountainous areas of western Nepal.
Initial reports suggest that many communities - especially those close to mountainsides - suffered significant quake damage.

There are 14 international medical teams on the way to Nepal, the UN says, and up to 15 international search-and-rescue teams on the way, the UN says, which will if necessary use military aircraft or the overland route from India to get into Nepal.
Offers of help have come in from around the world. Some foreign teams have already arrived and are helping with search and rescue efforts - braving aftershocks at Kathmandu airport that forced some aircraft to circle before landing.
The UN children's agency says nearly one million children in Nepal urgently need humanitarian assistance as they were particularly vulnerable.
The country is running out of water and food, and there are frequent power cuts, the UN says.
Heavy rain earlier on Saturday further worsened conditions with UN officials expressing concern that thunderstorms that could harm people staying outdoors and lead to a shortage of vaccines against disease including diarrhoea and measles.
line
Offers of aid:
US: Disaster response team and an initial $1m (£0.7m), according to aid agency USAid
China: Rescue team reported to have arrived in Nepal
India: Several aircraft, carrying medical supplies and a mobile hospital, and a 40-strong disaster response team, including rescuers with dogs
UK: Eight-strong humanitarian team, £5m in aid
Pakistan: Four C-130 aircraft carrying a 30-bed field hospital, and army doctors and specialists; urban search-and-rescue teams equipped with radars and sniffer dogs; food items, including 2,000 meals, 200 tents and 600 blankets
Norway: $3.9m (£2.5m) in humanitarian assistance
Pledges from Germany, Spain, France, Israel and the EU
Australia has also pledged $5m, and will be sending a Crisis Response Team.

http://www.nbcnews.com/science/environment/mt-everest-shrank-nepal-quake-lifted-kathmandu-n351271
The first good view of the aftermath of Nepal's deadly earthquake from a satellite reveals that a broad swath of ground near Kathmandu lifted vertically, by about three feet, which could explain why damage in the city was so severe.
The new information comes from Europe's Sentinel-1A radar satellite. The images also reveal that some of the world's tallest peaks — including Mount Everest — dropped by about one inch, according to the nonprofit UNAVCO, a geoscience research consortium. That's because the Earth's crust relaxed in the areas north of the Kathmandu, after the earthquake released pent-up strain.
According to the early analysis, a region 75 miles long by 30 miles wide lifted upward by as much as three feet during the earthquake, said Tim Wright, a geophysicist at the University of Leeds in the United Kingdom. This uplift peaked only 10 miles from Kathmandu, even though the city was relatively far from the earthquake's epicenter.
@Butrflynet,

trying to wrap my head around that 3 foot lift
does any kind of modern construction accommodate that?
@ehBeth,

I don't know. My architect boss once told me about a kind of whole building platform thing that they devised in Japan, but that was probably back in the eighties and I don't remember details.
Nepal just got hit by another major quake

NEPAL

Preliminary Earthquake Report
Magnitude 7.4
Date-Time
12 May 2015 07:05:19 UTC
12 May 2015 12:50:20 near epicenter
12 May 2015 01:05:19 standard time in your timezone
Location 27.843N 86.153E
Depth 18 km
Distances
22 km (14 mi) SE of Zham, China
66 km (41 mi) ENE of Banepa, Nepal
69 km (43 mi) ENE of Panaoti, Nepal
83 km (51 mi) E of Kathmandu, Nepal
84 km (52 mi) ENE of Patan, Nepal
And another
M6.3 - NEPAL

Preliminary Earthquake Report
Magnitude 6.3
Date-Time
12 May 2015 07:36:53 UTC
12 May 2015 13:21:54 near epicenter
12 May 2015 01:36:53 standard time in your timezone
Location 27.618N 86.166E
Depth 15 km
Distances
33 km (20 mi) NNE of Ramechhap, Nepal
63 km (39 mi) E of Banepa, Nepal
64 km (40 mi) E of Panaoti, Nepal
83 km (51 mi) E of Kathmandu, Nepal
84 km (52 mi) E of Patan, Nepal
A strong earthquake shook Nepal on Tuesday, sending people in the capital Kathmandu rushing out on to the streets weeks after a devastating quake killed more than 8,000 people and destroyed hundreds of thousands of homes, eyewitnesses said.

The U.S. Geological Survey said the quake had a magnitude of 7.4 with a depth of 19 kilometres struck 68 kilometres west of the town of Namche Bazar, close to Mount Everest.

UN says funds for Nepal falling well short of what's needed
Nepal government needs international support for reconstruction
"This is a really big one," said Prakash Shilpakar, the owner of a handicrafts shop in Kathmandu who was trying to call his parents in the town of Bhaktapur, devastated in the April 25 quake.

Shockwaves were felt across northern India and as far away as the capital New Delhi, where buildings swayed for more than a minute and people scurried into the streets.

People in Kathmandu rushed outdoors, Reuters reporters said. There were no immediate reports of damage to buildings. Shopkeepers closed their shops.

The quake's epicentre was close to Everest Base Camp, which was evacuated after an avalanche triggered by the April quake killed 18 climbers. Mountaineers seeking to scale the world's tallest peak have called off this year's Everest season.

Earlier, a military official reported the Nepali army rescued 117 people from three remote mountain villages north of Kathmandu, including two U.S. citizens who had been searching for a missing relative.

The 115 Nepalis and two Americans were evacuated on Monday from Syanjen, Kenjing and Langtang Village, where hundreds of people were killed in a huge landslide and avalanche triggered by last month's earthquake.

All of those rescued were stranded in the three popular trekking villages in Rasuwa district, about 60 kilometres north of Kathmandu, after the 7.8 earthquake struck over two weeks ago, killing at least 8,046 people and injured more than 17,800.

A series of avalanches and bad weather in the area had slowed the military's efforts to reach those cut off.

"The entire Langtang Valley has turned into a rocky and snowy ruin due to avalanches," Uddhav Bhattarai, Rasuwa's district administrator, told Reuters.

On Sunday, the continuing avalanche risk led officials to suspend their search for some 200 bodies believed to be buried beneath the rock and snow in Langtang Village.

As of Monday, 128 bodies had been recovered there.

"Rescuers have been unable to go there to look for bodies since the weekend because avalanches continue to fall and make it dangerous," Bhattarai said.
@Butrflynet,

How many deaths?