@farmerman,

Mmmmm . . . salt . . .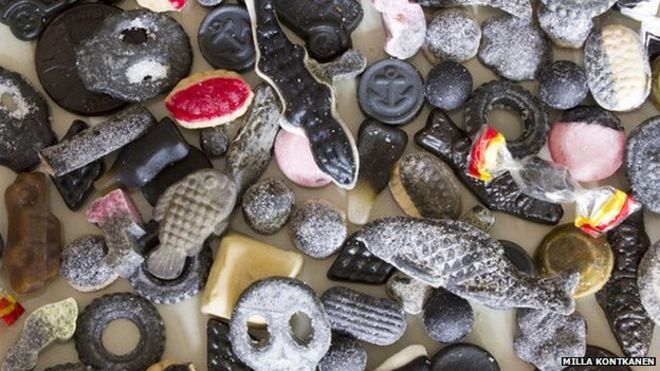 Salty liquorice is an acquired taste - and many in Finland, Scandinavia and the Netherlands learn to love its sharp, sour flavours during childhood. But for those who are introduced to it later in life, the black stuff can be hard to stomach.
http://www.bbc.com/news/magazine-24303423
@edgarblythe,

mmmmmmm proper licorice
I'm happy that our neighbourhood Serbian bakery has started importing it. So much better than nasty nasty Twizzlers made with flour of all stupidities.
now I'm craving an anise drop as well
@tsarstepan,

that looks like its made of felt. what the hell is that color dust **** on there?
@farmerman,

I'd stay a mile away from that there bagel..
@tsarstepan,

funfetti cream cheese?
that's a shitload of errrr yucky in one hand
@farmerman,

farmerman wrote:

that looks like its made of felt. what the hell is that color dust **** on there?

Probably asbestos based powder.
Yes, Oreo Bagels Are Now A Thing
@tsarstepan,

why do they keep messing with bagels?
@ehBeth,

Because there are so many people who have never experienced the joy and freshness of a real bagel, made the way they're supposed to be without a bunch of weirdities.
@Sturgis,

I've even given up on most so-called traditional bagels. I'm going with Turkish simit or Greek sesame rings these days. They're more like bagels were 20 or so years ago - with good chewy texture and not a bunch of strange toppings. I'll stick with salt or sesame seed or poppy seeds, thank you very much.
I consider a chocolate chip cookies stuffed with reese's cups a Frankenstein food. I guess, it's obvious that when you combine the two can even look like a monster. It is actually my favorite snack.
@advisorstable,

Donutception
I shouldn't have looked. That stuff is so revolting I have developed a sick stomach.
I like a hot dog with mustard wrapped in a corn tortilla.