Wed 18 Jan, 2012 10:58 am
Maybe we should all have black avatars....
here's a good 'un...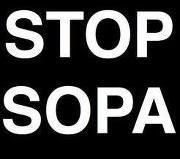 @Region Philbis,

I just saw a sign on another site that read: "Sopa my ass, Congress".
It took me a minute.
For Farmerman:
@DrewDad,

Certainly your avatar and mine could be blacked out under SOPA as copyright infringements. (If Ralph doesn't run in 2012 I'm going to be pretty dated.)
@engineer,

here ya go
Joe(mmph bbbpppfft !)Nation
@Joe Nation,

How about this?