Sat 18 Oct, 2008 01:49 pm
Ok, after seeing these books I think it's sometimes right to judge a book by its cover. See if you can top these lame book covers:
Author of
God Loves Me, Why Can't I Get My Locker Open?
@Robert Gentel,

Robert Gentel wrote:
Judging a book by its cover
@Robert Gentel,

I've heard of auto-urine therapy, but never came across any practitioners.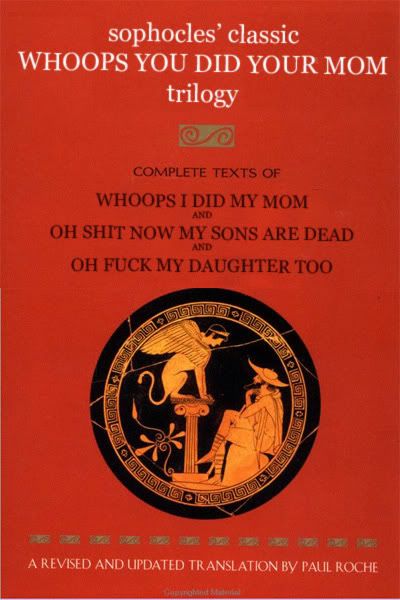 @Robert Gentel,

I have this book:
Found this one at a thrift store a few years ago and
had
to add it to the ironic decor of my grad school-era apartment:
This one's just plain funny (probably 'shopped though):
@Ticomaya,

That's hysterical! I assume you know that the author of that book has the most prestigious cook book awards named after him.
The James Beard Foundation Awards
. The Pulitzer Prize but for cookbooks.
http://www.jamesbeard.org/?q=node/99
I missed this the first time around. Wow, those first ones are colossally lame. Amazingly lame. Woefully lame.

"How to **** in the Woods" was a good book though! I've read it.

(Hey tsarstepan, good to see ya.)
@sozobe,

Bonjour sozobe!
I'm not sure what is more shameful being caught as one of the readers of these books or being the author of them?!
@Robert Gentel,

ooo err ive forgotten the collective noun for collectors of bookmarks
dont look there isnt one feel free to neologise
@Robert Gentel,

no way
"yep, that's wood. not plastic. wood."
ok I just figured out that they might mean oak vs maple or something but still
@sozobe,

I hear it's a very good book about wood and a worthy follow up to his "Understanding Wood", but still I snicker...