How about some art that tells stories?
Today is Peter Max's birthday.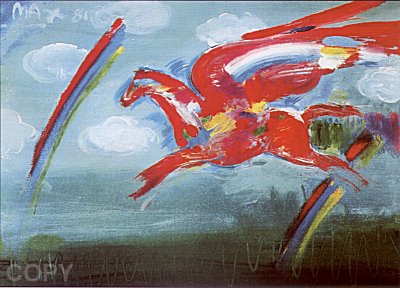 Pegasus sprang from the gorgon Medusa's neck when Perseus killed her. Athena caught and tamed Pegasus and presented him to the Muses on mount Helicon, where, having struck the ground with his hoof, a spring began to flow, which became sacred to the Muses as the fountain Hippocrene. Bellerophon, King of Corinth, managed to capture Pegasus with a golden bridle, given by Athena.
With the help of Pegasus, Bellephoron was then able to destroy the three-headed monster Chimaera. Unfortunately, however, this caused Bellerophon to have an inflated opinion of his greatness, and he attempted to fly on Pegasus to join the gods on Olympus.
An enraged Zeus sent an insect to annoy Pegasus, causing the horse to throw Bellerophon from his back. Pegasus was then installed in the Olympian stables where he was entrusted to bring Zeus his lightning and thunderbolts.