I was reminded of my annual thread by a program on Radio Australia this morning. Along with the narration, they had old recordings, exhorting us to "keep the home fires burning," among other rather innocent sentiments. For all the Englishmen, Germans, Scots, Frenchmen, Belgians, Italians, Austrians, Hungarians, Bulgarians, Turks, Russians; for all the people from so far away, the Americans, the Australians, the Canadians, the Japanese--for all those nations who suffered much or comparatively little, today is a day to remember. When i was child it was called Armistice Day, now it's called Veterans Day in the United States. In much of the English-speaking world, it is called Remembrance Day. Whatever it is called, the War to End All Wars, which sadly did not end war, was itself ended at 11:00 a.m., ninety-four years ago.
In Flanders fields the poppies blow
Between the crosses, row on row,
That mark our place: and in the sky
The larks still bravely singing fly
Scarce heard amid the guns below.

We are the dead: Short days ago,
We lived, felt dawn, saw sunset glow,
Loved and were loved: and now we lie
In Flanders fields!

Take up our quarrel with the foe
To you, from failing hands, we throw
The torch: be yours to hold it high
If ye break faith with us who die,
We shall not sleep, though poppies grow
In Flanders fields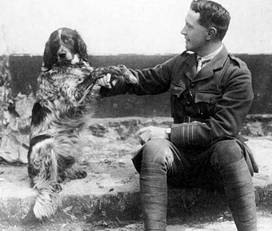 The author of the poem, with a friend, in Flanders, in 1917, just a few months before his death.