http://www.guardian.co.uk/sport/2012/oct/14/felix-baumgartner-sound-barrier-live
Quote:
Felix Baumgartner lands safely after record-breaking jump – live

Austrian Felix Baumgartner has broken the record for the highest ever skydive by jumping out of a balloon 128,000ft (24 miles, 39km) above New Mexico.

The 43-year-old was hoping also to break the sound barrier during his descent - although that mark awaits confirmation.

Video cameras relayed the moment Baumgartner stepped from his balloon capsule to begin his fall to Earth.

It took just under 10 minutes for him to reach the desert surface below.

Only the last few thousand feet were negotiated by parachute. Once down, he fell to his knees and raised his fists in triumph. Helicopter recovery teams were on hand moments later.
More at the link above.
You can also follow it minute by minute and see photos here:
http://www.guardian.co.uk/sport/2012/oct/14/felix-baumgartner-sound-barrier-live
Excerpts: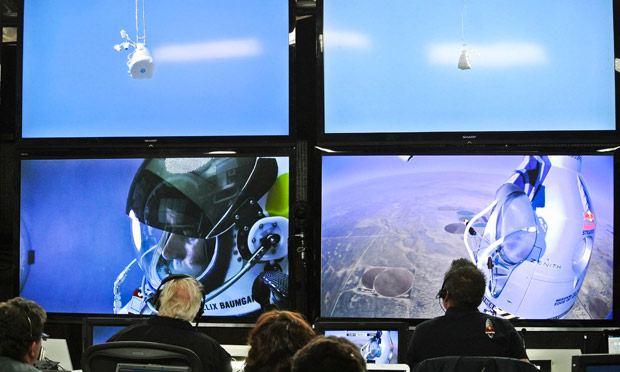 The space jump in summary:
Felix Baumgartner has skydived to earth from 128,000ft, that's about 24 miles, and the highest anyone has ever gone in a balloon.
He appears to have broken the speed of sound – at one point he hit 729mph. But the speed of sound varies with altitude so we are waiting on expert opinion on that one.
The jump broke another record too
More than 7.1 million people turned to YouTube for updates.
The press conference has begun
The preliminary numbers are now in. The big one is speed. Baumgartner reached Mach 1.24, meaning he did break the speed barrier.
His exit was the highest ever recorded: 128,100ft (39,035 meters).
Baumgartner was in freefall for four minutes and twenty seconds.
The freefalling distance was 119,846ft (36,529 meters).
His maximum velocity was 373 meters per second.