@boomerang,

Yes! (Tough to keep it a surprise!)
It also included keeping her off of
this thread
, since she's an incorrigible over-the-shoulder reader and I don't always know when she's there since I can't hear her coming. (We call her hovergirl.) I tried to not open it at all when she was home.
(What's Mo's surprise?! Now I'm curious.)
OK so to continue with the update....
Amazing thing #2: No lines!!
The time we went -- between Thanksgiving and Christmas -- was chosen specifically for being a slow/ off-peak time. Sozlet missed two days of school but that turned out to be trivial, she did all of her homework for the two days she'd miss in school before she left, and didn't get behind at all.
I put a fair amount of research into the timing so it wasn't random or anything, but still, the sheer lack of crowds was amazing and wonderful.
I also got early admittance (I think CJane was the first to bring that up? may have been boomer, at any rate, thanks), it came free with the hotel we stayed at. So there were not many people to start with AND we arrived an hour early.
Our first morning dawned crystal clear and 45 degrees! In Florida!
On the walk there.
If we were going to the beach that would suck, but it was great for going to the Wizarding World of Harry Potter, not least because of the winter theme of Hogsmeade.
Sign says "please respect the spell limits"
An aside -- I went looking for pictures of Hogsmeade online since I figured they'd be better than my photos, they all were defaced by huge crowds! Which brings back the amazingness of how un-crowded it was for us. The whole attraction is pretty small and gets PACKED.
At any rate, the weather was actually gorgeous for us, coming from lower temps but not nearly as much sun. It was nice to not be sweltering as we looked around at the lovely snow-topped roofs and Christmas decorations.
And the cold air was a lifesaver once we stumbled out of the incredibly stomach-churning "Forbidden Journey" ride. Holy cow. I was trying to figure out where to barf so that it wouldn't fly on sozlet by the end of it. It was AMAZING though. Sozlet proclaimed it
the awesomest thing ever.
And after several deep breaths of fresh cold air, we were both fine.
But getting a bit ahead of myself.
The line for that ride wends through Hogwarts because the line is typically 1-2 hours long. There is a ton to see -- Hogwarts castle is really amazingly well done, tons of detail.
But we went zipping through because there were, all together now, NO LINES!
Really, it was crazy.
We went back the next day and took the separate tour -- not the line for the ride, but another route -- and again had the whole place to ourselves. Took our time and really looked around, it was awesome.
From the outside (later that afternoon, after clouds had rolled in):
The weather ran the gamut on that first day -- cold and clear in the AM, warming up to low 70's in the afternoon, then cloudy and cool in the late afternoon.
Winged hog at the gate (in the morning):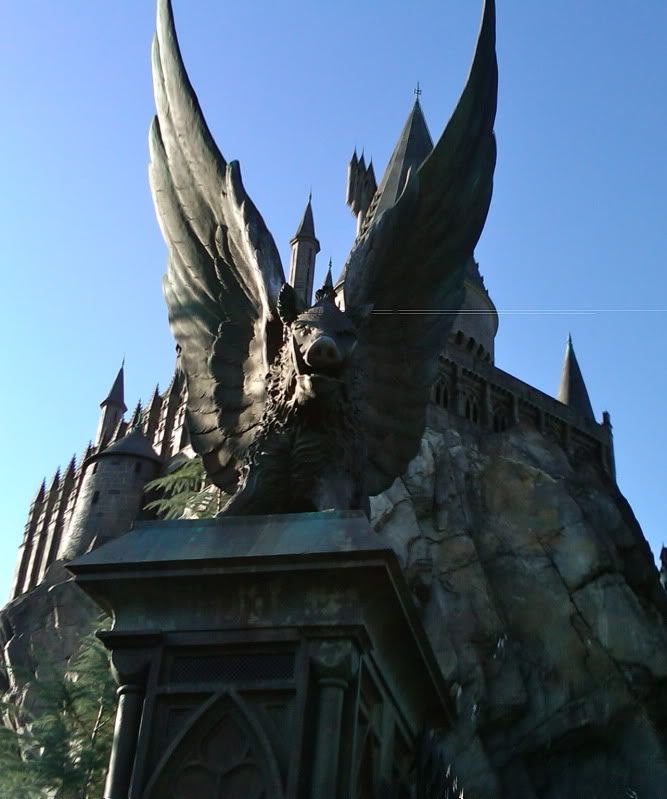 The only other ride we went on was the Flight of the Hippogriff, and that one we went on about a million-billion times (it was exhilarating without being scary and we'd just keep looping back because, right, no lines!). Here's a picture of Buckbeak bowing to us, randomly snapped over my shoulder as we took off. (All photos taken with my Blackberry, quality isn't great but for convenience -- all I took with me the whole time was the BB plus $$, credit cards, tickets and hotel room cards -- it can't be beat.)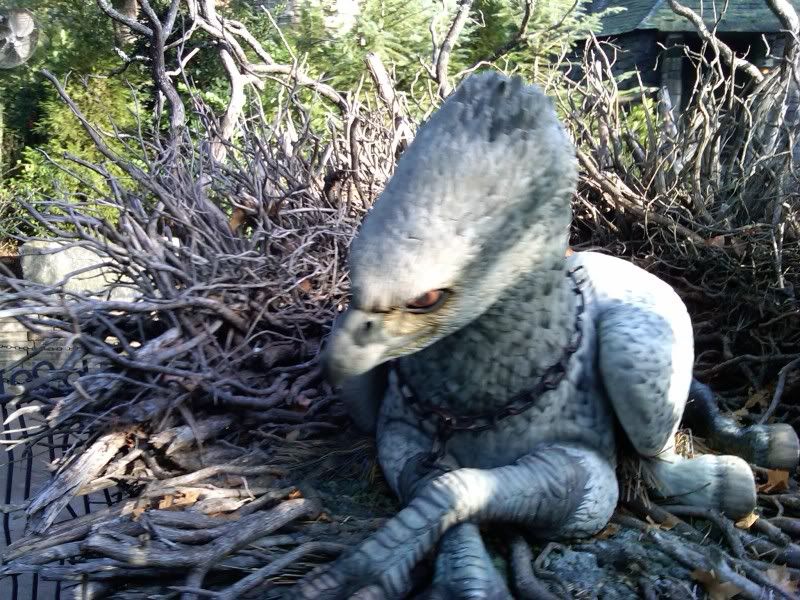 The shops were a lot of fun too, Dervish and Banges, Zonkos, Honeydukes, etc. Sozlet spent her birthday money and got a bunch of small presents for friends.
First day's haul: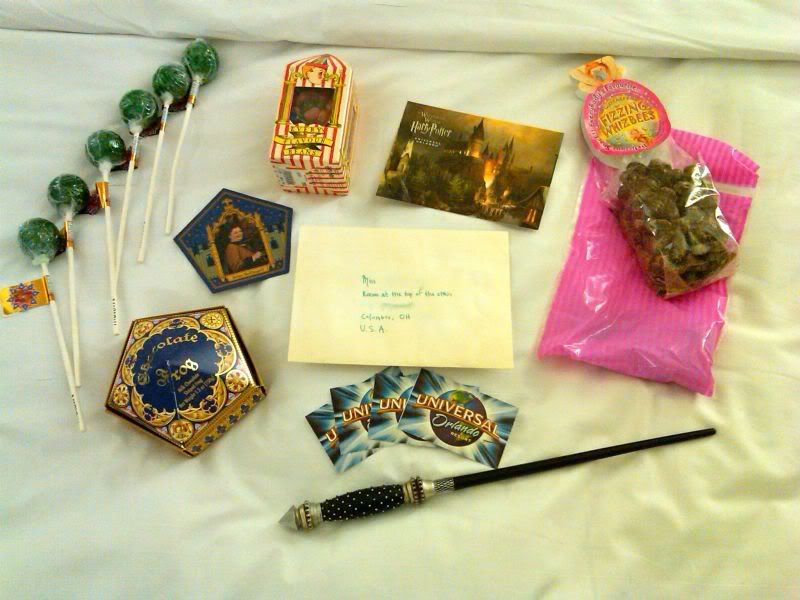 Clockwise from top left: Acid pops (evil evil evil), Bertie Botts' Every Flavour Beans (and they're actually every flavor, the "vomit" ones are FOUL), postcards (got them stamped at the owl post!), Fizzing Whizbees, pink Honeydukes bag with berry candy in it, new wand (Narcissa's), chocolate frog + chocolate frog card (Helga Hufflepuff -- hologram!), and then tickets and the letter (with some smudging -- second line is "Room at the Top of the Stairs") in the middle. She also got a Gryffindor shirt.
Next: Seaworld and the Dolphins Up Close tour!