Fri 29 Jan, 2010 01:49 pm
Could anybody recommend historical novels dealing with this period?
The Scarlet Letter
Nathaniel Hawthorne
I agree with Joe, that's an excellent novel.

I would highly recommend the novels of Kenneth Roberts.

Boon Island is about a shipwreck on the Maine coast early in the 18th century.

Northwest Passage, which deals with Rogers Rangers and the French and Indian wars.

Arundel is about a small seaport in Maine (the heart of Robert's world), and the American Revolution up to the attack on Québec by Montgomery and Benedict Arnold. (Arnold was a hero to Roberts, and he makes a persuasive course for Arnold's crucial importance to the early revolution.)

A Rabble in Arms takes up the characters from Arundel, and takes them through Arnold's campaigns in upstate New York to the battle of Saratoga. The English Commander, John "Gentleman Johnny" Burgoyne dubbed the Americans a rabble in arms, hence the title.

Oliver Wisell tells the tale of a Tory, a loyalist to the Crown, in the revolution. A rare view from the other side.

There are several novels he wrote (two, three?) about the young United States--the phony war with France fought out in the waters around Haiti and two or three novels set during the War of 1812.

He was one of the most popular authors in the late 1930s and the 1940s. Any good library system should be able to get his books for you. His fiction is evident in his colorful characters--his devotion to historical accuracy puts him in a class by himself.

James Fenimore Cooper is one of the historically unreliable writers of fiction in our literary history. Nevertheless, i recommend the "Leatherstocking" series, about Natty Bumpo, a frontiersman. The most famous of these novels is The Last of the Mohicans, set during the French and Indian War. It is one of the "Leatherstocking" novels.

Cooper has been criticized, perhaps justly, for his treatment of women, and of the Indians, and has been branded a racist. There can be no doubt that Cooper wrote about the Indians of New York and New England from a position of breathtaking ignorance--which never deterred him. He was immensely popular in the early and mid 19th century. It is said that on his deathbed, Franz Schubert regretted that he would not be able to read any more of Cooper's novels. Balzac is said to have been a big fan. Cooper's novels are fine entertainment, whatever the criticisms. He also wrote novels of the sea, but i've not read any of them.

Just about any other novels of that period which i have read have been utter tripe, of varying degrees of badness.
Definately would recommend
James Fenimore Cooper
who wrote the "Last of the Mohicians." He lived in NJ and NY from 1789 - 1851.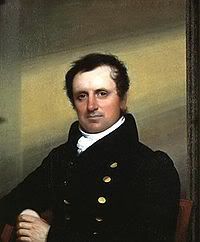 @Setanta,

I surely do wish I could reproduce Mark Twains commentary on James Fenimore Cooper. Hilarious, and probably accurate.
@roger,

Well, it would be good if you could find that, Roger--i am unfamiliar with it.
Cool . . . thanks George . . .
My thanks to Roger and George . . . that was high-larious. Classic Clemens literary criticism . . .
If you like a little soap-opera in your historical fiction, try John Jakes's
The Bastard and The Rebels.
@George,

Thank you, George. I had visions of Roger sitting in the college library, carefully transposing. . . .
@George,

I know you were trying to be funny just like when I want to say tupac shakur , I say who paks ur car. Chingachgook is said as such.....ching gish gook. I thought it was funny to just say chicago
This line by Clemens struck me for a tangential reason:

" . . . conversations consisted mainly of irrelevancies, with here and there a relevancy, a relevancy with an embarrassed look, as not being able to explain how it got there."

The tangent that sent me off on was how much Clemens has influenced American humor. Here, "relevancy" is accorded an existence, as it were anthropomorphized. There was a book written by James Thurber and E.B. White in 1929 entitle Is Sex Necessary? In 1950, they issued the "coming of age" edition on the occasion of the 21st anniversary of its first being published. In the preface, they write "The serious writers had gotten sex down, and were breaking its arm." Reading the line above by Clemens, i immediately thought of that line, and it suggests to me the enormous influence of Clemens on American humor.

Thanks, everybody for your suggestions. It looks like a lot of good reading material. Has anybody read the Gore Vidal novel, "Burr" dealing with that period, or for that matter any in that series: "Lincoln," "1876," and "Empire"? I might even expand this quest for good non-fiction on the colonial period, something less dry than the average college textbook.
I would recommend that you add "Guns of Burgoyne" by Bruce Lancaster. It covers the same main historical events as Kenneth Roberts' "Rabble in Arms", but it does so from the point of view of a Hessian soldier who was drafted and sent to North America to fight under the British General Burgoyne. This second point of view of the events leading up to the Battle of Saratoga provides a great complement to that portrayed in "Rabble In Arms".
"Rabble In Arms" is my favorite historical novel, but "Guns of Burgoyne" is a close second favorite, followed by "Oliver Wiswell".

@bobdutica,

Thanks Bob. I may check it out.
Does anyone remember an old book describing courduroy roads (as in courduroy pants)? That is all I can remember but it was a fantastic book about colonial america and it was fiction, and I think it was an older book...
I veaguely recall that, and even recall an illustration of the making of a cordury road. But it is only a vague recollection. Drums Along the Mohawk, perhaps?