Soul legend Isaac Hayes dies
(CNN) -- Soul singer and arranger Isaac Hayes, who won Grammy awards and an Oscar for the theme from the 1971 action film "Shaft," has died, sheriff's officials in Memphis, Tennessee, reported Sunday.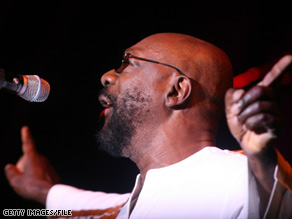 Singer Issac Hayes seen performing in the U.K. last year. Hayes was found dead Sunday at age 65.
Relatives found Hayes, 65, unconscious in his home next to a still-running treadmill, said Steve Schular, a spokesman for the Shelby County Sheriff's Department.
Paramedics attempted to revive him and took him to a hospital, where he was pronounced dead shortly after 2 p.m., the sheriff's department said.
No foul play is suspected, the agency said in a written statement.
Hayes was a longtime songwriter and arranger for Stax Records in Memphis, playing in the studio's backup band and crafting tunes for artists such as Otis Redding and Sam and Dave in the 1960s.
He released his first solo album in 1967.
In 1971, the theme from "Shaft" became a pop hit and won an Academy Award for best original theme song. The song and the movie score also won Grammy awards for best original score and movie theme.
He was inducted into the Rock and Roll Hall of Fame in 2002.