Fri 13 Jul, 2012 10:55 pm
Roulette Bet roe-e
Many thanks
@dean50,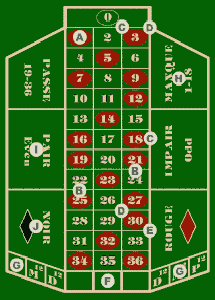 Do you see what I see?
@Miss L Toad,

No. What can you see. Perhaps I am dumb
@dean50,

Rouge
, pair et manque..
@Strauss,

the letters given are correct (roe?e) so rouge cannot be correct I know dutchy has finished this so what is it mate?.philcottie.
@dean50,

I too have rouge as my answer as given very cleverly by Miss L Toad. ukUleles will get rid of your E.
@dean50,

I can confirm ukuleles and I think roule is the other answer your seeking
@tryxy116n,

Quote:
A red bet is also called "rouge" in roulette, since "rouge" means red, in the French language