Fourth of July checklist

burgers
beer
charcoal
lighter fluid
homemade coleslaw
red white and blue jello ring
bottle rockets...hmm
and bring our boys and girls back safely...and soon
Yeah, happy 4th! And though it's been said, many times, many ways...screw you, England!!
[size=7]Happy fourth, y'all.[/size]
Way down yonder in the Indian Nation
I'd ride my pony on the reservation
In those Oklahoma hills where i belong . . .



Carry me back to old Virginny,
There's where the cotton and the corn and tatoes grow . . .



I left my heart in San Francisco, high on a hill it calls to me
To be where little cable cars climb halfway to the stars.
The morning fog may chill the air, I don't care.



Yeah, down by the river
Down by the banks of the river Charles
That's where you'll find me
Along with lovers, fuggers, and thieves
Well I love that dirty water
Oh, Boston, you're my home



Sweet home Alabama
Where the skies are so blue
Sweet Home Alabama
Lord, I'm coming home to you
Here I come Alabama



I want to wake up in the city that never sleeps
To find I'm king of the hill, top of the heap
These little town blues
Are melting away
I'll make a brand new start of it
In old New York
If I can make it there
I'll make it anywhere
It's up to you, New York, New York.



Well east coast girls are hip
I really dig those styles they wear
And the southern girls with the way they talk
They knock me out when Im down there

The mid-west farmers daughters really make you feel alright
And the northern girls with the way they kiss
They keep their boyfriends warm at night

I wish they all could be California
I wish they all could be California
I wish they all could be California girls



Almost heaven, West Virginia
Blue ridge mountains
Shenandoah river -
Life is old there
Older than the trees
Younger than the mountains
Growin' like a breeze

Country roads, take me home
To the place I belong
West Virginia, mountain momma
Take me home, country roads

Lots of places are home to a lot of people in our continental home . . . my best wishes to them all . . .
Philadelphia freedom ....

... somewhere in the swamps o' Jersey ...

... that stands for big D, my oh yes, Big D, little a, double l, a, s ...
"Elbow room,"
Cried Daniel Boone.
Now don't blow off any fingers!

Happy 4th!
Let's see. I got some bottle rockets, some M-80s, some Roman candles......what else have I got in here....(lights match)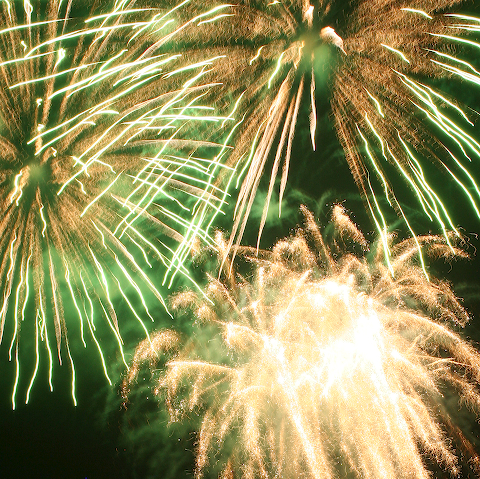 ooooh, yeah!
we just got back from the fireworks store...man it was packed...everything was 2-4-1.

I had to sign a sheet attesting to the fact that I'm a farmer and using the firecrackers to scare away birds...

or ...I work for the railroad...??
Don't understand that one...
My step father had a nephew in California, who played with dynamite the way others use fireworks. One time, he made such a large explosion, it shook the whole town. Not a bad feat, since he was a good distance out in the country. That lead to a new law, restricting dynamite and its use.
I suspect they are talkin' about flares, panz. We're going to watch the pyrotechnic show from the golf course.
Just returned from the fireworks display. A local radio station plays accompanying music every year- -everything from Stars and Stripes Forever, to Great Balls of Fire. There was a version of God Bless America (You dumb Pollock) by an artist I did not recognize. It was made double fun by the presence of three of my grandkids.
glad you had a good one edgar.
We had some steady rain all day but managed to shoot off 200 bottle rockets
I'll be damned--those really are the lyrics to "Dirty Water", the guy who wrote it apparently got mugged on the Harvard Bridge over the Charles River and wrote the song about that, and now it's the Red Sox victory song. I was just down Memorial Drive from the infamous bridge tonight for the fireworks, and they were great. Who knew they made huge smiley face fireworks, and they had new ones this year that were gigantic numerals--a huge "2" and an immense "3", and a great big "1", but that's an easy one. Drizzly but superb.