http://www.guardian.co.uk/world/iran-blog/2012/apr/18/iran-cleric-condemns-homosexuality
Quote:

An influential Iranian cleric who is entitled to issue juristic rulings according to the Sharia law, has condemned western lawmakers involved in the decriminalisation of homosexuality, saying those politicians are lower than animals.

Ayatollah Abdollah Javadi-Amoli, an Islamic scholar based in Iran's holy city of Qom, said in a speech among his followers that homosexuals are inferior to dogs and pigs, according to the news website Khabaronline.

"If a society commits a new sin, it will face a new punishment," he said while interpreting Qur'anic verses about prophet Lot whose tribe Isalmic scholars say was punished by God for sodomy. "Problems like Aids did not exist before."

Citing the Qur'an, Javadi-Amoli said politicians who pass laws in favour of homosexuals are lower than animals. "Even animals ... dogs and pigs don't engage in this disgusting act [homosexuality] but yet they [western politicians] pass laws in favour of them in their parliaments."

http://en.wikipedia.org/wiki/Mahmoud_Asgari_and_Ayaz_Marhoni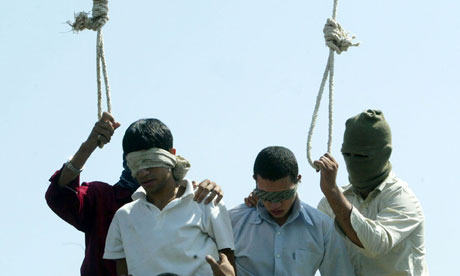 Teenagers hanged for gay activities in 05
There's also a question as to how sharia law would deal with Gaea worshipers but I assume the history of India would pretty much answer that one since a muslim would have to view a Gaea worshiper as a "polytheist" more or less the same as they view Hindus...