@Pamela Rosa,

You're both dead wrong and so are any/all of y0ur sources.
The Neanderthal has been abandoned as a possible human ancestor precisely because the genetic gap is too large and Heidelbergensis and every other hominid are much further removed from us THAN the Neanderthal. Every Neanderthal who ever lived past ten or eleven years old had some sort of a tool kit, a bag of scrappers, choppers, knives, and spear points and in all those millions of tools and despite the overwhelmingly cold climate of the European ice age, nobody has ever found a Neanderthal needle (Cro Magnon needles are common); that's because a creature with a 6" ice-age fur coat doesn't NEED clothing or needles.
This is what a Neanderthal looked like (image courtesy themandus.org):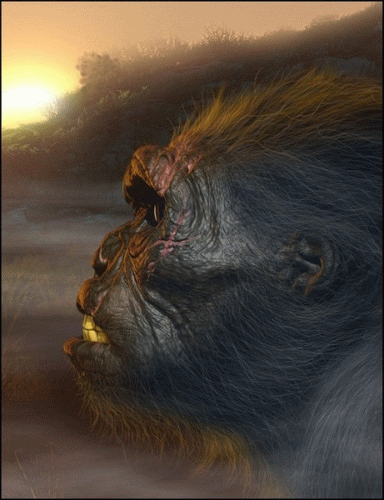 Homo Heidelbergensis as well as the things you're talking about would look as scary to HIM as he does to us.
The Neanderthal was the most advanced member of the same family of creatures as apes and monkeys, we are simply not a member of that family.
Modern humans arrived here in at least two distinct saltations, i.e. the Cro Magnons, and the Bible antediluvians, which were genetically identical or close enough to neglect the difference, but culturally and technologically different, the Bible antediluvians being metal tech people from day one. Either group is capable of producing any skin color or feature found in modern man today, so that the difference is historical, and not racial. Both the Spanish Basque and the Australian aborigines are Cro Magnon descendants.