Jesus as caucasian:
Quote:
1) Do you believe it's factual?
No, but my impression is that he does look (as commonly depicted) like a lot of my semitic friends. It's not like he has fair skin with freckles - he's usually pretty tan in pictures.
Quote:
1a) If so, then why choose white?
Because white was the default mode/hue/shade of all things 'good' at the time these pictures were being mass produced and presented to the public as a representation of Jesus.
If you look at iconic art of the virgin with child, for instance, he doesn't look like a typical white baby there: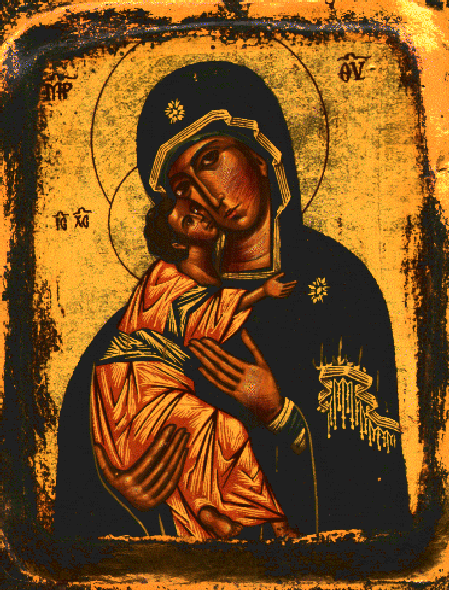 Quote:
1b) If not, then why do you believe this imagery is the default? What is the effect of that on believers?
I think it's the default because the greatest number of Christians are of European descent and I surmise they wanted that reflected in their god.
Diversity wasn't exactly something that was celebrated until recently and by some.
Quote:
2) Do you think it matters?
If one believes that there is a factual component at all to the Christ story - it'd be nice to see the truth.
Quote:
2a) If so, then why choose white?
I wouldn't choose white myself. I picture him looking like a Rasta man - a Bob Marley look-alike would do nicely.
Quote:
2b) If not, then why isn't there more diversity? What is the effect on that on believers?
Probably because that's not what matters or is most important to most believers.
It goes deeper than skin tone or pigmentation for most people who believe in something.
It doesn't have any effect on me. It hasn't seemed to have turned off the many African-American believers I know, who are actually some of the most devout and committed believers I've ever met.
It doesn't seem to be something that matters greatly to them - I think they know it's just a representation of a concept they believe in, and as such is not as important as the concept itself.
Quote:
3) What would be the reaction to challenging this standard?
Each individual would have an individual reaction. To me, it wouldn't make a whit of difference.
URL:
http://able2know.org/topic/166295-1