I had shepherd's pie last night . . . wanna sniff my butt?
@Setanta,

Hey Set, I heard the shepherd pie was for your 60th birthday dinner old man.
BBB
@Setanta,

Did you give your doggie a taste of the pie?
BBB
@Setanta,

<sneaking in thru the catflap>
<runs out quickly
>
happy birthday, 60 is a fine age - or so I hear.

Actually, yesterday was my Grandma's birthday too.

Cycloptichorn
Happy Birthday Set. Hope you have a great day....





and no, I don't wanna sniff yer butt. lol
I'll pass on the butt sniffing, but will wish you a Happy Birthday!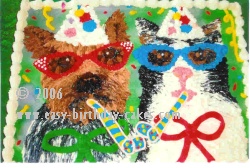 Happy Birthday, set!
(Can't we all just get along?
)
@Cycloptichorn,

Let me guess . . . she was 60, too . . . (big sigh) . . .
I hate birthdays at this point in my life.

But wish you a real happy one Set!
@Ceili,

Butt, butt . . . shepherd's pie ! ! !
@Swimpy,

Merci verra verra much . . .
@Tai Chi,

What a half-nice cake . . .
@spidergal,

Thanks . . . i've got plenty to spare if you want some . . .